The Location of the Monastery

The expansive site of Preveli Monastery is surrounded by low, wild mountains which form the south - western extension of the White Mountains. The area thus confined, which is linked with the rest of Rethymnon County and Sfakia Province by once inaccessible gorges, comprises a handful of villages which are incorporated into the Phoenix Municipality. The main access from Rethymnon (in the north) is through a steep gorge, the Kourtaliotis. According to the legend, the name is derived from the clinking of stones heard rattling when the north wind blows through this narrow passage. Deep down in the gorge runs the Kourtaliotis river, into which other streams in the area flow to form the Great River (Megalos Potamos). The main springs of the river are virtually in the center of the gorge, near the church of the local saint, St. Nicolaos the Kourtaliotis and it flows into the Libyan Sea, passing through fertile farming sites, at a place called Limni, which is renowned for its beauty. The whole area is quite remarkable for its fertility and the richness of its flora and fauna. The diverse vegetation, including self- planted palm trees, offers an exotic impression to this beautiful landscape.

The area where the Monastery of St. John the Evangelist stands, on the other hand, is almost empty of vegetation because of cattle raising and frequent fires. Nevertheless, the alternating features of the landscape, the magnificent view of the sea, the alternately dry and lush terrain reveal the magnificence of Crete. The panoramic view from the monastery is quite impressive in its austerity, particularly when it meets the Libyan Sea beyond.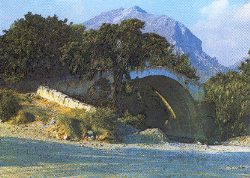 On our journey to the Monastery we cross the arcade - like bridge over the Great River, built by locals at the expenses of the Monastery between 1850 and 1852. The bridge is shaped Ð and comprises of two inclined stone laid levels of 13,30 meters width and 7,60 meters height. The construction is highly regarded both from the architectural and the aesthetic points of view. The nearby bridge over the Bourtzoukos stream is simpler in construction and smaller in dimensions and was built in 1852. These two bridges allowed access to the Monastery's farms and to the other inhabitants of the area.

Phoinix municipality area has adequate infrastructure for the comfortable stay of the visitors.