Preveli's Benediction Cross

This miraculous relic constitutes the "Palladium" of the Monastery and is associated with many miracles especially related with eye diseases. It's a big silver cross (Dim. 0.56x0.25) with wider points at the ends and protruded decorative buttons and anthemia in a wire working process.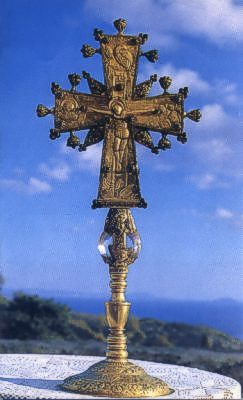 The Baptism of Jesus Christ is shown from one side. The Father on the upper part and the Angels beside the points of the cross. On the other side the crucifixion and the symbols of four Evangelists. A big crystal is attached to the handle of the cross and in the perimeter of the cyclical base the donation iscription appears: " Fatigue And Hard Work Of Abbot Efraim, Whom Save Lord From The Hell Fire". The cross demonstrates the level of folklore silversmith in Crete during the r second half of 18th C, when the active and energetic Abbot Efraim Prevelis lived. The cross is kept into a shrine in the main church of the Monastery.

The Cross was carried in the front line in every battle thus greatly encouraging the fighters. In 1823, in the unequal battle against the Turks at Amourgeles, in Monofatsiou province, the Holy Symbol was lost. The Cross was found at the end of 1823 in the hands of Genoese sailors, who had purchased it in Heraklion. According to the legend, they returned the Cross to the Monastery when their ship simply stop in the water, in a a quite mysterious way, while sailing in the Libyan sea near the Monastery of Preveli and was able to proceed only after the precious relic was given back. In 1941, German officers removed the Cross from the Monastery and attempted to send it in Germany. The airplane though which would transfer the Holy Symbol away could not take off. They put the Cross in another airplane without result, nor the second airplane could start. They attributed this event to the Holy Symbol, so few days after the looting, the Cross was back at its position. It was September 13, eve of the Holy Cross exaltation, the celebrating day of the Monastery.