PREVELI INTERNATIONAL PEACE MEMORIAL FOUNDATION CEREMONY

The International Peace Memorial was founded on May 18th, 2001, on an official ceremony which was organized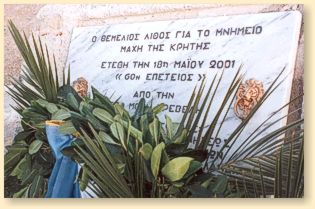 by the Holy Monastery of Preveli, the Phoenix Municipality and the Prefecture of Rethymnon. The project was officially blessed by Bishop of Lambis & Sfakion Eirinaios and Bishop of Rethymnon and Avlopotamou Anthimos, who have been assisted by the brotherhood of the Monastery.

Deputy Defense Minister Dimitrios Apostolakis represented Greece. The ceremony was attended by members of the Greek Parliament, by top officials of the governments of Australia, New Zealand and UK, veterans, as well as by many visitors.
They all wished an expeditious construction of the Memorial , in order to be ready for unveiling on the next commemoration of the Battle of Crete.
The authorities of the area decided that the commemoration of the Battle of Crete will be celebrated at this site from now onwards.

Outside the monastery speeches followed and a famous local group played Cretan music, inspired by the event of the Battle of Crete. The ceremony was completed with reception inside the monastery.

Photos from the Shrine foundation ceremony can be found at the image gallery page.